Penneys or Primark call it what you will this store always puts a smile on my face and a flutter in my heart like a big hunk of hotness or loves young dream.
Penneys is an oasis is fashion, accessories and makeup that i can enjoy without breaking the bank!
We have all fallen for the latest fashion trends some good and some just wrong! but the beauty of Penneys is i can afford to get fashion trends wrong once in a while.
If it ends up at the back of my wardrobe on the way to Narnia that is OK because i can live with the loss unlike some high-street buys that i wear way past the season and passed the decade to get my value from it or hoping the trend comes around again.
Penneys has come a long way from its earlier stores and now can be found in several locations worldwide including New York!
I remember when i was a teenager in school my mum bought me a pair of Penneys runners for PE class, i was devastated because at school it was all about the brand names. I rocked up to gym class in my Penneys runners and got a hard time from my class mates , i used to beg my mum to give me a note to avoid that class.
Now if i got a pair of Penneys runners id be chuffed, they would be on trend, cool and id be proud to be seen in them:-) Nowadays i am a Penneys babe or Penneys mannequin as my husband calls me, i am 90% Penneys 80% of the time.
There is no doubt Penneys are on the pulse of the now - hats off to their buyers who clearly know their customers, the beauty and the beast chip mug mania or chip gate as its been fondly labeled proved that! Unfortunately i didn't get to grab one this time but i hear they are back in May so if you'd like one too you better start queuing now!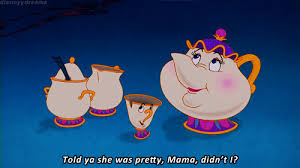 The make up aisles in Penneys are where you are sure to find makeup fans, bloggers and makeup artists because of the choice of current hot topic items from contouring pallets and strobing kits to glitter and gloss it has it all!
I wont lie if Penneys was to close tomorrow i would be devastated and completely broke because no where else can offer me such amazing value for fashionable trends and essential items from nickers & tights to shoes and coats.
We have all gone into Penneys with the intention of buying one thing and ended up coming out of the store with blue finger tips from carrying a bouquet of goody filled bags. Shopping in penny's is like falling into a worm hole in time where the outside world blurs away inside its wonderful wonderland.
So all that is left to say is long live Penneys and i will see you very soon!
Until next time my beauties x